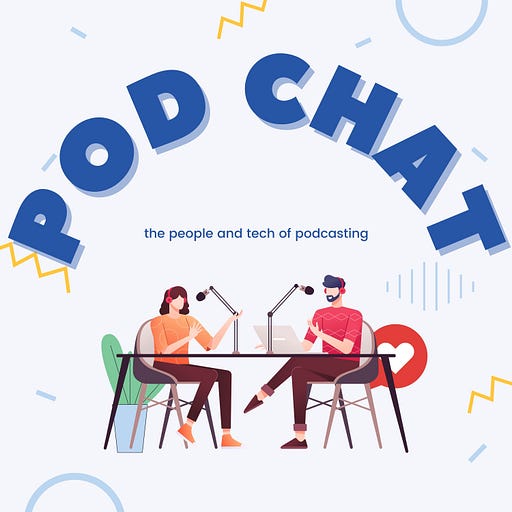 May 25, 2022
Hari Gopalakrishna on Audio Quality and Building for Your Community
how Boomcaster is driving remote recording for the indie podcaster
You love podcasting. It doesn't matter if you're a listener or podcaster yourself, when it comes to podcasting you're all in! Not only that, but you get excited hearing about all the cool things happening in the podcast space. Great - Pod Chat is the show for you! From the latest tech and cool innovations, to the people driving the podcast industry forward, host Danny Brown has you covered. Listen in as Danny takes you behind the scenes of what's new in podcasting, what needs to be new, and who's going to make it happen. Released bi-weekly and available on all your favourite podcast apps, make Pod Chat your new favourite show when it comes to getting your podcasting fix!
Today, I chat with Hari Gopalakrishna, founder of remote recording and live-streaming platform Boomcaster.
Hari has a long history in the SaaS industry, and has built many leading cloud solutions for businesses. But it's his own frustrations as a podcaster seeking simple, quality solutions for remote recording that led to Boomcaster being born.
Listen in as we talk about:
making podcasting accessible to all

on creating the best experience for streamers and podcasters

the importance of building for your community

why you need to focus on your production quality

why Boomcaster is doubling down on indie podcaster needs
Get 50% Off Boomcaster Remote Recording Platform
Boomcaster makes it super easy to put your podcast interviews (or any other online meeting) together:
studio-quality audio thanks to its local recording feature

separate audio files

up to 4k video

live streaming

no app to install

Dolby processing
If you record remotely and are looking for a new platform to try, you can get a free 30-day trial and 50% off your first three months. Find out more below.
Note: this is an affiliate link, so I may get compensated if you sign up, but I use Boomcaster for all my recordings and only recommend something I use and trust.
Connect with Hari:
Coming up next on Pod Chat
June 10 - JJ Ramberg, Goodpods

June 24 - Mark Asquith, Captivate.fm
I'm looking forward to bringing these guests and more to you over the summer - it's going to be a great few months ahead!
Until the next time, stay safe, stay well, and happy podcasting!
Danny.
Follow Pod Chat on your preferred podcast app to get each new episode!
---
Products I use for Pod Chat
Note: these contain affiliate links, so I may get a small percentage of any product you buy/use when using my link.
My equipment:
Recommended resources:
Enjoy Pod Chat? Leave a review or rating on your preferred app and show the world you care!
Get your daily podcasting newsletter with Podnews
Pod Chat is sponsored by Podnews - get a daily email with all the latest news about podcasting. It's free at podnews.net. From jobs across the industry to events and conferences, you'll find the latest podcasting info in the daily newsletter. You can add podnews.net to your daily briefing on your smart speaker too - just search for it in your smart speaker app.