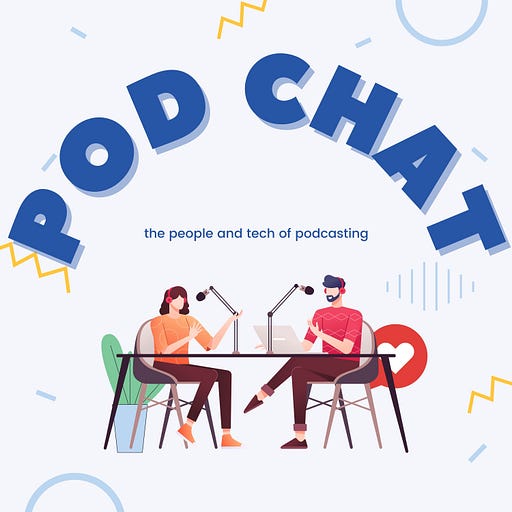 Jun 9, 2022 • 32M
Mark Asquith on Spotify and YouTube's Relationship with Podcasting, and Why RSS Isn't Key
or why excitement about the future is stopping growth of the now
You love podcasting. It doesn't matter if you're a listener or podcaster yourself, when it comes to podcasting you're all in! Not only that, but you get excited hearing about all the cool things happening in the podcast space. Great - Pod Chat is the show for you! From the latest tech and cool innovations, to the people driving the podcast industry forward, host Danny Brown has you covered. Listen in as Danny takes you behind the scenes of what's new in podcasting, what needs to be new, and who's going to make it happen. Released bi-weekly and available on all your favourite podcast apps, make Pod Chat your new favourite show when it comes to getting your podcasting fix!
Mark Asquith is a well-known and hugely respected name in the podcasting space, both as a podcaster and a provider of podcast solutions.
As the co-founder of Captivate, the world's only growth-oriented podcast host, Mark and his team are building tools to help the serious indie podcaster succeed. He's also a keynote speaker and a regular presenter at podcast industry events.
It's safe to say he has some great insights around the podcast space, some of which we talk about today.
why building podcast solutions come best from your own frustrations

how success should be defined by different metrics

why growth shouldn't stop with recognition

why podcasting isn't what it used to be (and that's okay)

how YouTube will approach podcasting

why podcasting monetization means more than dynamic and programmatic
Connect with Mark to get more insights like this.
Coming up next on Pod Chat
June 24 - JJ Ramberg, Goodpods
I'm looking forward to bringing these guests and more to you over the summer - it's going to be a great few months ahead!
Until the next time, stay safe, stay well, and happy podcasting!
Danny.
Follow Pod Chat on your preferred podcast app to get each new episode!
---
Products I use for Pod Chat
Note: these contain affiliate links, so I may get a small percentage of any product you buy/use when using my link.
My equipment:
Recommended resources:
Enjoy Pod Chat? Leave a review or rating on your preferred app and show the world you care!
Get your daily podcasting newsletter with Podnews
Pod Chat is sponsored by Podnews - get a daily email with all the latest news about podcasting. It's free at podnews.net. From jobs across the industry to events and conferences, you'll find the latest podcasting info in the daily newsletter. You can add podnews.net to your daily briefing on your smart speaker too - just search for it in your smart speaker app.