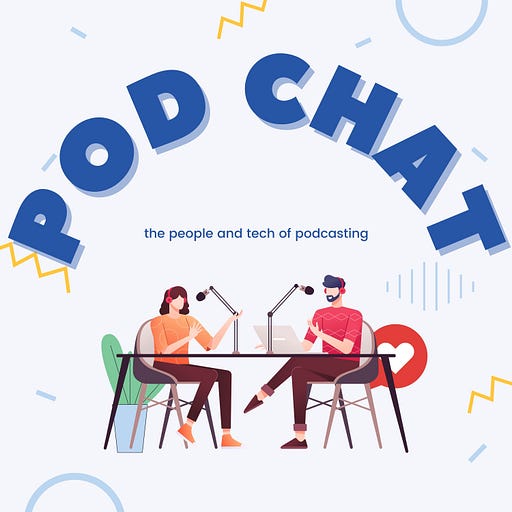 Mar 17, 2022 • 52M
James Cridland on Tech and Dynamic Content Driving Podcasting's Future
why the time is now for podcasters and platforms alike to benefit
You love podcasting. It doesn't matter if you're a listener or podcaster yourself, when it comes to podcasting you're all in! Not only that, but you get excited hearing about all the cool things happening in the podcast space. Great - Pod Chat is the show for you! From the latest tech and cool innovations, to the people driving the podcast industry forward, host Danny Brown has you covered. Listen in as Danny takes you behind the scenes of what's new in podcasting, what needs to be new, and who's going to make it happen. Released bi-weekly and available on all your favourite podcast apps, make Pod Chat your new favourite show when it comes to getting your podcasting fix!
Welcome to the early access edition of Pod Chat, where you get first listen to the latest episode as well as a deeper look at some of the tools and tech mentioned in it.
In this issue:
Episode 2 of Pod Chat, with guest James Cridland

Spooler, a real-time audio app for publishers

A Million Ads, changing the way we use dynamic insertion

A special 50% off promo offer promo for Boomcaster

Coming up next on Pod Chat
Pod Chat Episode 2, with James Cridland
In Episode 2 of Pod Chat, my guest is James Cridland, founder and editor of Podnews, the leading industry publication and newsletter. James has over 28 years in the radio and online business, and helped launch the first daily podcast from a UK radio station and the world's first radio station streaming app.
With that background, it's no surprise that James brought an amazing collection of insights to our chat, including:
where next for the humble RSS feed

how namespaces are making a difference to podcast apps and hosts

why big platforms need to respect what creators want

how cultural differences are impacting the acceptance of ads in podcasting

the problem with the term indie podcaster

why advertisers need to think smarter when it comes to AdTech
Settle back and enjoy these insights and more from the immensely knowledgeable James.
Spooler: Creating Truly Evergreen Podcasts
One of the tools James talked about in the episode was Spooler.fm, which is looking to completely change the way we look at keeping podcast content fresh.
Using dynamic insertion technology, Spooler lets creators edit and re-edit content on the fly, and then update a podcast/episode with that new content.
But this isn't your usual use of dynamic content - because Spooler is a CMS, it creates "story modules" that are updated and published seamlessly. Think about a news podcast that could update the events in Ukraine in almost real-time, essentially turning that podcast into a live news podcast as it happens.
These can be embedded on a website or listened to on podcast apps, making it super easy for listeners to stay up-to-date with your changes.
The possibilities with this are super exciting - check Spooler out for yourself.
How A Million Ads is Changing the Way We Think About Dynamic Ads
Thanks to Dynamic Ad Insertion, Streaming Ad Insertion, Dynamic Audio Insertion, and more, advertising on podcasts is a big business, both for podcasters and publishers/advertisers.
As James shared in the episode, by using data to create truly personalized advertising, A Million Ads becomes more than an advertising platform - it's a personally tailored lifestyle partner for the target audience.
Got podcast listeners who live in London? Drop an ad for a local shop you're partnering with.

Got listeners who always plays your episodes at lunch time? Offer a saving with your Skip The Dishes partnership, just for these listeners.
These are just a couple of examples where ads are presented based on a wide dataset, and are targeted to listeners that fall within that campaign parameter.
This is most definitely the future direction of contextual, targeted ads for your podcast sponsors and partners - check A Million Ads out here.
Get 50% Off Boomcaster Remote Recording Platform
While I'd love to record Pod Chat in person, I tend to find that travelling across the world to talk with my guests isn't feasible. Instead, all the recordings are created on Boomcaster.
A remote recording platform that offers audio and video, Boomcaster makes it super easy to put your podcast interviews (or any other online meeting) together:
studio-quality audio thanks to its local recording feature

separate audio files

up to 4k video

live streaming

no app to install

Dolby processing
If you record remotely and are looking for a new platform to try, you can get a free 30-day trial and 50% off your first three months. Find out more here.
Note: this is an affiliate link, so I may get compensated if you sign up, but I use Boomcaster for all my recordings and only recommend something I use and trust.
Coming Up Next on Pod Chat
I think you can agree that the first two guests on the show have been awesome, and really set the bar for what you can expect with every episode. But things are just getting started. :)
Here are the upcoming guests for the next four episodes:
April 1 - Arielle Nissenblatt, EarBuds Collective

April 15 - AJ Churchill, Lunar.fm and Apollo

April 29 - Hari Gopalakrishna, Boomcaster

May 13 - Bryan Barletta, Sounds Profitable
I'm looking forward to bringing these guests and more to you over the spring and summer - it's going to be a great few months ahead!
Until the next time, stay safe, stay well, and happy podcasting!
Danny.
---
Follow Pod Chat on your preferred podcast app to get each new episode!
---
Products I use for Pod Chat
Note: these contain affiliate links, so I may get a small percentage of any product you buy/use when using my link.
My equipment:
Recommended resources:
Enjoy Pod Chat? Leave a review or rating on your preferred app and show the world you care!
Get your daily podcasting newsletter with Podnews
Pod Chat is sponsored by Podnews - get a daily email with all the latest news about podcasting. It's free at podnews.net. From jobs across the industry to events and conferences, you'll find the latest podcasting info in the daily newsletter. You can add podnews.net to your daily briefing on your smart speaker too - just search for it in your smart speaker app.